Lohri is a festival connected with the solar year. Generally, it is an accepted fact that this festival is to worship fire. This is particularly a happy occasion for the couples who for the first time celebrated Lohri after th eir marriage and also the first Lohri of the son born in a family. Children visit homes in the neighbourhood and sing songs. One of the famous ones is :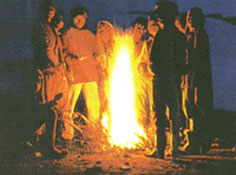 The day begins with children collecting money from houses in the neighbourhood. In the evening, winter savouries are served around a bonfire. Celebrated enthusiastically in Haryana, Punjab and parts of Himachal Pradesh, it also signifies the beginning of the end of winter. Children go from door to door singing songs in praise of Dulha Bhatti, a Punjabi version of Robin Hood who robbed the rich and helped the poor. These "visitors" are given either money or gachak, bhuga, til, moongphali, gur and rewri. A bonfire is lit and everyone gathers around it. Munchies, collected from each house, go around the party and are also thrown into the fire.
The festival assumes greater significance if there has been a happy event in the family during the elapsed year, like the birth of a male child or marriage. The family then plays host to relations and friends wherein the eats take a back seat and merry-making takes over. Move on folks! It is then time for bhangra, dhol, gidda and light-hearted flirtation. Liquor flows freely and guests are served dinner. But then liquor is a modern introduction and is not customary and celebrations depend on how much does the pocket allow.A popular belief in this region is that if someone seeks a radish roasted in the bonfire lit by a family that has reason to celebrate, then blessings are bestowed on the family of the seeker as well. Geographically speaking, the earth leans towards the sun along the Tropic of Capricorn (Makara rekha) from the day following Lohri, also known as Winter Solstice. The earth, farthest from the sun at this point of time, starts its journey towards the sun along its elliptical orbit, thus heralding in the onset of spring. It is this transition which is celebrated as Lohri in northern India, Makara sankranti in the central part of the country and as Pongal-Sankranti in South India.
The festival is spread over three days in South India and also signifies the beginning of harvesting. A rath yatra is taken out from the Kandaswamy temple in Chennai on Pongal. The day is celebrated as Ganga-Sagara in West Bengal and according a belief, Hindus purify their sins by taking bath in the Ganges. A big fair is also held on the Sagara Island, 64 km from the Diamond harbour where the Ganga meets the Bay of Bengal. Call it Lohri, Pongal or Sankranti, the festival conveys the same message — the bond of brotherhood and the spirit of oneness should prevail despite all odds.