Situated in North Karnataka, Badami was founded by Pulakesin I in the 6th century A.D and was once the capital of the Chalukya empire. The Chalukyas are to be acknowledged with path-finding a new architectural style, examples of which can be seen in Badami, Aihole, Pattadakal and other neighboring areas. They built a number of temples, and other monuments that marked the beginning of the Hindu style of architecture. This new style combined the best of two distinct styles – the North Indian, Indo-Aryan Nagara style and the South Indian Dravidian style. Known as the Chalukyan style, this style is manifested in many cave temples, dedicated to Brahmanical deities, as well as the many Buddhist and Jain monasteries in the region.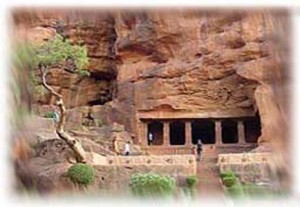 The caves found here are as follows.
Cave 1 : The first cave made of red sandstone, dates back to 578 A.D. and was probably the first to be carved. One has to climb up 40 odd steps to reach the colonnaded verandah, a hall with numerous pillars and a square shaped sanctum hollowed in the control back wall.
Cave 2 : Dedicated to lord Vishnu depicted here as a dwarf or 'Trivikrama' of awesome dimensions with one foot mastering the Earth and the other the sky, the second cave is atop a sandstone hill.
Cave 3 : Still going higher up one comes across this cave antedating 578 A.D. The facade of the cave is nearly 70 feet wide, on the plinth one can see the carvings of ganas. The sheer artistry and sculptural genius makes this cave the highlight of Deccan art.
Cave 4 : The only Jain cave, the construction of Cave four started in the 6th century and completed after nearly 100 years later then the earlier three caves.